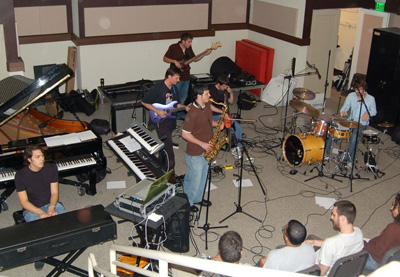 The Frost School's Funk/Fusion Ensemble has won the prestigious Downbeat Student Music Award every year since 2002. Essentially a composer's workshop, the repertoire and instrumentation vary from year to year. The underlying philosophy is to play to the strengths of the musicians in the group, as opposed to having a predetermined idea of a particular sound or style.
Former members of this creative and exciting group include Veronica Swift, Federico Vindver, Nate Stokes, Jeff Babko, Clay Ostwald, Andrew Synowiec, Brendan Buckley, Chris Hartz, Jonathan Joseph, Gabriel Vivas, Kevin Stevens, Ludwig Afonso, and Van Romaine.

The ensemble rehearses twice a week, records, and performs concerts locally and on campus. Students will acquire skills while learning repertoire and performance techniques leading to an advanced performance level. The course aims to:
Develop interactive skills between soloists and the rhythm section.




Expand knowledge of a wide range of styles.




Develop appropriate sounds and equipment necessary for the compositions created by the group.

Strengthen compositional and arranging skills.
Every student must contribute original compositions and arrangements to the ensemble's repertoire.